How It Works
ReviewInc makes it easy for local businesses to monitor, collect and share online reviews from their customers.
86% of all customers rely on online reviews when they buy something, and 72% of all people say online reviews are their top reason for choosing a local business.
That's why we created the only software that gives companies everything they need to improve their online reviews and win over new customers.
Monitor Reviews
We have a wide range of review monitoring services, all designed to keep you in the know about everything being said about your business as it's happening. Our unique monitoring platform lets you track your online reviews across over 750 different review sites. With a fully customizable dashboard, we provide your reviews the way you want them: detailed daily reports, weekly reports, historical charts, exported data, APIs, and instant alerts. Whether you're the smallest mom-and-pop shop to the largest international chain, we have you covered.
Campaign for Reviews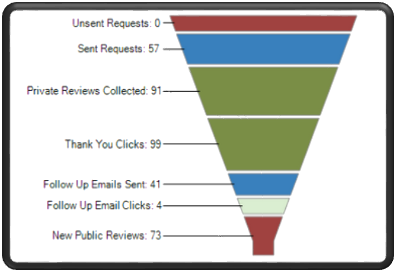 Our certified email service automatically requests reviews from your customer email list or via SMS text messages. Just upload your list from a file and sit back while we do all the work asking for reviews. We can even dynamically connect with your CRM system to initiate review requests automatically.
Collect Reviews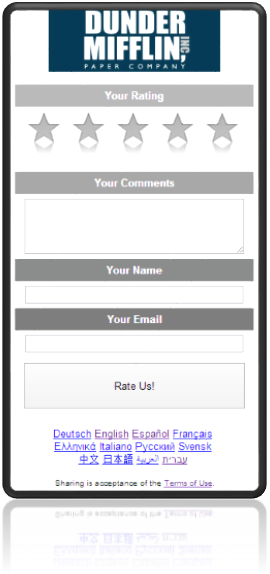 We create your own private review system that collects feedback from all your customers privately while rewarding feedback equally. Our fully automated solution is mobile friendly, tablet ready, email enabled, multi-lingual, and highly customizable. Our configurable multi-funnel system routes the bad reviews for instant in house response, while identifying the positive reviewers for sharing.
Ask a customer to volunteer feedback before they leave. Invite them with an instant email or SMS text message. Give them a platform to voice their opinions by handing a customer a tablet or giving them a short web address where they can write a quick review. That way, those with positive reviews have an easy outlet to share, and those with negative reviews (who usually only vent once) will let off steam in a way that's manageable and controlled. That's why all the information we collect is stored in a secure database where you can review them, see where they're coming from, and the sites they're posted to. If you remove all the hurdles and obstacles stopping a reviewer from sharing a positive experience, positive reviews will come easily and naturally.
Share Reviews
Once you start collecting all these great reviews, you're going to want to share them. We're here to help you get these reviews out there by sharing them on the sites that matter most for your business. This means that when customers search for your business, they'll start seeing the reviews that you want them to.
ReviewInc's automated services follow up with reviewers to get reviews posted by real people. This is the best, and most authentic, way to tell the world about your business, its products and its services. Reviewers are provided with all the shortcuts to direct them to the review site you want them to leave a review on. The less clicks, the less effort, the less research: the more likely you are to get reviews shared with the world.
Amplify Reviews

In addition to your customers sharing, ReviewInc amplifies the positive and shares for you. With your great new reviews, let us automatically share it on Twitter, Facebook, and more. If you wish to be more hands on, use our handy social media links with share tracking, social scheduling, Hootsuite integration, and more.
Automated Testimonials
Say good-bye to old and outdated testimonials!  Customers want to see recent testimonials – not testimonials from last year!  With our automated testimonial widgets and pages, you can show prospects that your customers love your business.  You can choose to include reviewer's names or hide them for privacy – all at the click of button.  We provide you all the tools to integrate this into your website in minutes.
Quick Response Code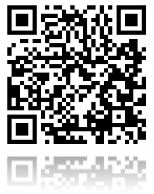 We automatically generate your own "QR Code" to enable smartphones to load your collection form in just a click!
Collect Reviews From Your Site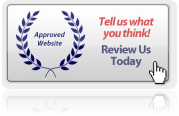 Add a button to your website that promotes more reviews from your customers.  We provide all the tools.  You can even embed review forms and we also support secure (HTTPS) connections.  You can even collect reviews from your Facebook page!
Get Started Today
Call us for your free, private and live demo of our service
USA: 877-973-8439
World: +1-818-660-1435
Our service is full of so many valuable features and benefits that drive results, and, we're adding more every month. We are sure you will love it! Just pay as you go with no contract, because, we want to earn your business every month.